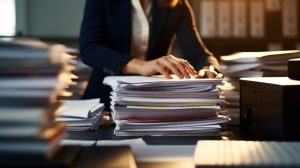 Legal records shredding is a practice law firms and legal departments undertake to protect sensitive information. However, it's more complex than feeding documents into a shredder. There are certain do's and don'ts that you need to follow to ensure proper compliance and security. Let's delve into these crucial pointers.
Understand The Importance Of Legal Records Shredding
Firstly, let's establish why legal records shredding matters. It's not just about decluttering your office; it's about safeguarding confidential information. Legal records often contain sensitive data that, if mishandled, could lead to severe consequences, including legal penalties and reputational damage. Shredding these documents ensures this information is handled correctly.
The Do's Of Legal Records Shredding
Follow Retention Schedules
Different legal records have varying retention periods dictated by laws and regulations. Some documents must be kept for a few years, while others must be preserved indefinitely. Ensure you're well-versed with these schedules before proceeding with shredding.
Use
 Cross-Cut Shredders
Not all shredders are created equal. Strip-cut shredders cut documents into long vertical strips that can be reassembled. On the other hand, cross-cut shredders cut papers vertically and horizontally, making it nearly impossible to reconstruct the document.
Train
 Your Staff
Everyone in your firm should understand the importance of legal records shredding. Conduct regular training sessions to update your team on the latest best practices and regulations concerning document destruction.
The Don'ts Of Legal Records Shredding
Don't
 Shred Documents Prematurely
While it's vital to declutter, avoid the temptation to shred documents prematurely. As mentioned earlier, different documents have different retention periods. Shredding them too soon could lead to compliance issues and potential legal problems.
Don't
 Neglect Digital Records
In this digital age, many legal records are stored electronically. These also need to be appropriately destroyed when they are no longer needed. Make sure you have a process in place to delete electronic documents securely.
Don't
 Overlook Privacy Laws
Various privacy laws govern the handling of personal data, which must be considered when shredding legal records. In the United States, various privacy laws govern the handling of personal data, which must be considered when shredding legal records. For instance, the Privacy Act of 1974 protects the personal information held by federal agencies. Additionally, laws like the Health Insurance Portability and Accountability Act (HIPAA) and the Fair and Accurate Credit Transactions Act (FACTA) have specific rules about the disposal of certain documents. Be sure to familiarize yourself with these regulations to ensure your document destruction practices comply.
Hire A Professional Shredding Service
While handling legal records shredding in-house is possible, hiring a professional service can offer several benefits. They have the expertise to ensure that all relevant laws and regulations destroy your documents. Plus, they provide a certificate of destruction, proving that the documents were properly disposed of.
Legal records shredding is a crucial task that should be taken with seriousness. By adhering to these do's and don'ts, you can ensure that your firm handles sensitive information responsibly and complies with all relevant laws and regulations. Remember, when it comes to legal records shredding, it's always better to be safe than sorry.
Choose Assured Document Destruction For Secure Shredding Services In Tucson
Looking for a secure, reliable, and efficient way to dispose of your legal records? Look no further than Assured Document Destruction. Based in Tucson, Arizona, we have been providing top-notch shredding services for law firms in the region for many years.
We understand the importance of your privacy and are committed to ensuring that your confidential information is properly disposed of. Our state-of-the-art equipment guarantees thorough shredding of your documents, while our experienced staff is always ready to address any questions or concerns.
We Offer A Range Of Services To Cater To Your Specific Needs:
One-Time Shredding: Ideal for customers requiring a one-time document purge.
Scheduled Shredding: Regular document shredding services to ensure secure disposal of no longer needed files.
Hard Drive Destruction: We render all electronic media and hard drives legally indecipherable through physical destruction.
Drop-off Shredding: Convenient shredding at our facility Monday – Friday from 8 a.m. until 4 p.m. (except holidays).
Whether you need on-site shredding to witness the destruction of your documents or prefer off-site shredding, we've got you covered. We are AAA certified by the National Association for Information Destruction, offering the highest level of security for your peace of mind. After each shredding service, you'll receive a Certificate of Destruction as proof of proper disposal.
Ready to secure your information? Let us provide you with a simple, convenient, and cost-effective solution. Contact us today to schedule your shredding service. Assured Document Destruction – your trusted partner in secure document destruction in Tucson, Arizona.