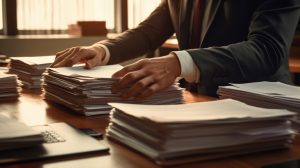 Every business, whether a small start-up, a medium-sized enterprise, or a large multinational corporation, irrespective of its sector, be it finance, healthcare, technology, or retail, generates a considerable volume of paperwork. This paperwork comes in various forms and serves various purposes – contracts that formalize agreements, invoices that keep track of financial transactions, employee records that hold valuable information about the company's workforce, and client information that is indispensable for maintaining relationships and offering personalized services. Improper disposal can lead to clutter, compliance issues, and even data breaches. To avoid these pitfalls, businesses need an effective strategy for document disposal. This is where scheduled shredding comes into play.
Understanding Scheduled Shredding
Scheduled shredding is a service that provides regular, secure document destruction right at your workplace. Instead of having piles of paperwork waiting for an annual purge, scheduled shredding allows you to consistently maintain a clean, organized, and secure environment.
When you sign up for scheduled shredding, you receive lockable security containers throughout your office. These containers serve as a safe repository for no longer needed documents. On a schedule of your choosing, a Shred Specialist from the service provider will empty and shred the contents of these containers quickly and efficiently, causing minimal disruption to your workday.
The Benefits Of Scheduled Shredding
Scheduled shredding increases your document security, provides convenience, ensures compliance with privacy laws, and promotes environmentally friendly disposal. By using scheduled shredding, you eliminate the risk of sensitive information falling into the wrong hands, as the secure containers provided safely store your documents until their destruction. You even have the opportunity to witness the shredding process for added reassurance. The convenience is unparalleled as you don't need to worry about transporting boxes of documents to a shredding facility; instead, a Shred Specialist comes to your location, making document disposal as straightforward as possible.
Furthermore, scheduled shredding aids your business in staying compliant with privacy laws such as HIPAA and FACTA. These laws mandate businesses to destroy certain types of information to protect against identity theft, and scheduled shredding ensures you meet these requirements. Lastly, the process is environmentally friendly. After shredding, the service often recycles the shredded paper, thereby contributing to your company's sustainability efforts.
Scheduled Shredding With Assured Document Destruction Tucson
Assured Document Destruction Tucson is a trusted provider of scheduled shredding services. With a team of licensed and insured specialists, we offer on-site shredding that meets the highest standards of security and privacy. We are NAID AAA Certified and fully compliant with privacy laws, giving you peace of mind that your documents are safe.
Moreover, we understand that every business is unique and offer flexible schedules to suit your needs. Whether you need weekly, bi-weekly, or monthly pick-ups, we've got you covered.
Take Control Of Your Document Disposal Today!
Are you ready to revolutionize your document disposal habits? It's time to step into the future of document management with Assured Document Destruction Tucson. We're not just a service provider but your partner in creating a seamless, secure, and efficient document disposal process through our reliable scheduled shredding services. Our expert team at Assured is committed to providing you with top-tier service that prioritizes your convenience and security. We understand the importance of your documents and your trust in us to dispose of them securely. Our scheduled shredding services are designed to help streamline your operations, minimize clutter, and maintain high security.
Remember, choosing Assured Document Destruction means prioritizing your peace of mind. We handle your documents with the utmost care, ensuring they are disposed of securely and responsibly. With us, you can rest assured knowing your sensitive information is in safe hands. Contact us today and take the first step toward transforming your document disposal habits!