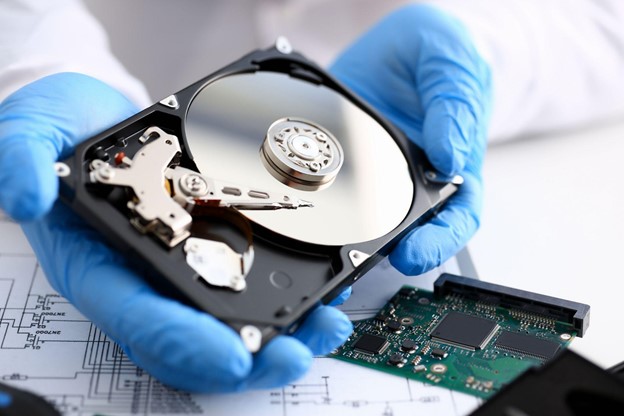 Almost every company owner in today's world knows the importance of shredding documents containing sensitive personal information, whether it's client-related or just company documents. Unfortunately, not everyone understands the significance of hard drive destruction. Your computer's hard drive, as well as other electrical gadgets, store sensitive data. Improper hard drive disposal can expose workers, clients, and customers to identity theft, as well as expose your company to costly fines for non-compliance. A security breach might also harm your company's overall reputation, making clients wary of doing business with you in the future.
Wiping a hard drive clean, reformatting it, or manually deleting files isn't always enough to guarantee data is securely disposed of. Please read along as we discuss and explain the reasons why you should destroy your hard drives and help you understand the best methods of doing so.
What Information Is Vulnerable on a Hard Drive?
Hard drives can store a variety of sensitive data. This sensitive information can be used by fraudsters and identity thieves who will try anything to steal money and open false accounts using false identities. Even after a file has been deleted or wiped by the computer user, information may still be retrieved from the hard drive. Some of the most commonly found data on hard drives that fraudsters look out for are:
Social security numbers
Financial documents or banking statements
personal contact details of clients/employees
passwords
Hard Drive Destruction Service – What is it and How Does it Work?
A hard drive destruction service is a business that contracts with clients to delete obsolete hard drive data and equipment in a secure manner.
If you search for "hard drive destruction service near Tucson" on the web, the results should come up with various options in your region. But how can you know which one is the best and most reliable? A computer hard drive destruction service is particularly cost-effective in today's market, with pricing for physical destruction staying relatively the same as the volume of hard drives to be destroyed grows.
The data destruction firm you choose should be able to offer a wide range of secure data destruction services at a fair price, including on-site and off-site services. Before choosing the destruction company, do your research and see what previous customers have to say about it by conducting your own web search and visiting their social media sites. Inquire about the firm's recommendations; if they're reputable and have a proven track record, they should be happy to provide them.
Companies that have earned an AAA accreditation from the National Association of Information Destruction have demonstrated to provide secure data destruction services and follow industry standards.

Whether you have computers, electronics, or hard drives to dispose of, as Assured Document Destruction, we are certified in professional hard drive shredding, protecting your confidential data from outside threats in the process. Contact our consultants today so they can analyze your requirements, provide pricing, and book your hard drive destruction service date.