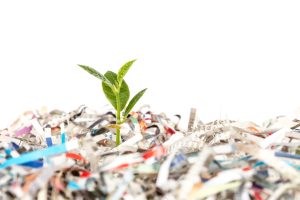 Balancing data security and environmental responsibility has become a critical challenge for businesses. Proper document destruction is essential to prevent unauthorized access and potential data breaches. It's crucial to minimize the impact on the environment. Assured Document Destruction Tucson provides a solution that balances these two priorities. In this blog post, we'll explore shredding and how it helps businesses maintain data security while being environmentally responsible.
The Eco-Shredding Process: Protecting Information And The Planet
Eco-shredding combines secure document destruction with environmentally-friendly practices. At Assured Document Destruction Tucson, we use state-of-the-art shredding equipment that ensures the destruction of sensitive documents and reduces energy consumption and waste. Our shredders are designed to produce small, uniform particles that can be easily recycled, minimizing the amount of waste sent to landfills.
Moreover, we follow strict guidelines and procedures during the entire shredding process to ensure no confidential information is compromised. By choosing a shredding service like Assured Document Destruction Tucson, you can have peace of mind knowing that your sensitive documents are securely destroyed while contributing to a greener planet.
Complying With Regulations And Reducing Your Carbon Footprint
Various laws and regulations require businesses to properly dispose of sensitive information to protect consumer privacy and prevent data breaches. Failure to comply can result in hefty fines and damage your company's reputation. You can demonstrate your commitment to data security and environmental sustainability by opting for shredding services.
Assured Document Destruction Tucson adheres to industry-specific regulations, such as HIPAA for healthcare providers and FACTA for financial institutions, ensuring that your business remains compliant. Additionally, our shredding practices help reduce your company's carbon footprint, which can be essential in meeting your corporate social responsibility goals and enhancing your brand image.
Saving Time, Money, And The Environment With Professional Shredding
Outsourcing your document destruction needs to a professional shredding company like Assured Document Destruction Tucson can save you time and money. Our services eliminate the need for purchasing and maintaining in-house shredding equipment and the labor costs associated with manual shredding. Furthermore, our recycling efforts can help you reduce waste disposal fees, contributing to overall cost savings.
By hiring professional shredding services, you protect sensitive information and contribute to a circular economy that promotes the responsible use of resources. The recycled paper from shredded documents can create new products, reducing the demand for raw materials and conserving natural resources.
Make The Eco-Conscious Choice: Secure Your Documents With Assured Document Destruction Tucson
In conclusion, document and data shredding is reliable and effective for balancing data security and environmental responsibility. Partnering with Assured Document Destruction Tucson, you can ensure the secure destruction of sensitive documents while minimizing your environmental impact and maintaining regulatory compliance. Assured Document Destruction Tucson is your one-stop solution for certain shredding services.
One-Time Shredding: Ideal for offices or individuals needing a one-time bulk clean-out of storage documents, our one-time shredding service ensures secure and convenient disposal of sensitive information.
Scheduled Shredding: For ongoing, regular document disposal, our scheduled shredding service provides increased security, lockable bins, flexible pick-up schedules, and a Certificate of Destruction following each service.
Hard Drive Destruction: We specialize in destroying electronic media, computer disposal, and hard drive destruction, our certified on-site mobile service guarantees the complete and secure elimination of confidential data.
We understand the importance of safeguarding your sensitive information and maintaining compliance with privacy legislation. As an AAA-certified company by the National Association for Information Destruction, we offer the highest security and convenience for all your shredding needs, whether on-site or off-site. Make sure to make the eco-conscious choice for your document destruction needs. Contact Assured Document Destruction Tucson today to learn more about our shredding services and how we can help you protect your information and the planet. Together, we can create a safer, greener future for everyone.