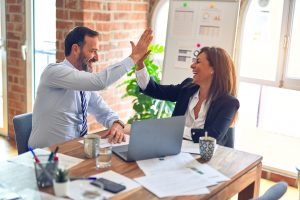 If you run a small business in Tucson or the surrounding regions, you are aware of how crucial it is to safeguard sensitive data. Shredding documents that contain sensitive information is one way to achieve this. Companies that offer on-site and off-site document shredding services, like Assured Document Destruction, can help your small business in various ways. Here are the top five ways that expert document destruction will help your small business:
Increasing Productivity
Employees may become distracted and tempted to snoop if confidential documents are left lying around. If sensitive data is misused, this may result in decreased productivity or even security breaches. You can help keep your workplace focused and productive by shredding documents regularly. In addition, shredding old documents frees up physical and digital storage space. You'll be able to tidy your office and get rid of those nagging filing cabinets full of old documents. You can save even more space if you move to paperless document management.
Saving Money
It can take a lot of time and money to shred documents by hand, especially if you don't have the right tools. A quick and effective way to quickly and cost-effectively destroy large amounts of documents is to hire a professional document shredding service. You'll also be helping the environment because recycled paper can be used instead of being thrown away.
Reduced Liability
Failure to do so could result in costly penalties or possible legal action. By shredding papers with sensitive data, you can reduce your liability in the event of a data breach. A NAID AAA-certified shredding service, such as Assured Document Destruction, ensures that your documents are destroyed following the privacy protection standards outlined in these laws. A Certificate of Destruction reduces your company's potential liability risks by providing proof of the destruction date, time, and method.
Keeping Your Reputation
In the present digital age, it only takes one security lapse to damage your company's brand and erode customer confidence. Document destruction is necessary to safeguard your company's reputation. If customers believe their personal information is appropriately protected, they are more inclined to do business with you again. Shredding companies like Assured Document Destruction Tucson safeguard your company's reputation by ensuring the secure destruction of your documents. Screened, uniformed professionals destroy your data following strict chain of custody procedures; the destruction process is documented; locked, GPS-tracked vehicles transport your paper records to a secure shredding plant.
Ensuring Recycling
Did you know that shredded paper can be recycled? That's right – by shredding your documents, you'll be helping to reduce landfill waste and protect the environment. Without jeopardizing confidentiality, a professional paper shredding service like Assured Document Destruction Tucson incorporates recycling into the destruction process. Both shredding and recycling take place within a secure building that is monitored by security personnel and technology. The professional shredding process ensures documented custody throughout the collection, destruction, paper baling, and recycling processes. So document shredding is suitable for your business, but it's also good for the planet too!
Your One-Stop Shop For Secure Document Destruction: Assured Document Destruction Tucson
There are many benefits to professional document shredding, but these are just a few of the most important ones. If you're looking for a way to keep your Tucson small business safe and secure, look no further than Assured Document Destruction Tucson. It's an easy and effective way to protect your company – and your bottom line. Contact us today to get started.